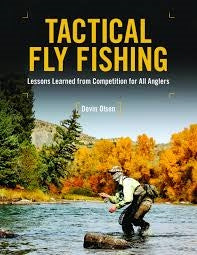 Tactical Fly Fishing Book by Devin Olsen
TFFDO
This book describes the tactics and techniques which I have learned since I started competing for Fly Fishing Team USA in 2006.
Here is a list of the chapters in the book:
Making and Adjusting a Plan Based on Observation. In this chapter I explain the variables that I observe when I arrive at the river which help me decide where and how to fish.
Gear and Rigging. What you read is what you get in this chapter where I detail the rigs which I use in and out of competition.
Euro-Nymphing: A Competitive Break Through. In this chapter I write about my history learning and using European-nymphing techniques and what makes these techniques so effective in so many circumstances.
Entergy and Currents: Where and Why Trout Hold. In this chapter I take a slight detour into the world of my former profession as a fisheries biologist. Simply put, there are reasons why fish occupy certain water types throughout the year. This chapter is meant to help you pinpoint locations where to fish more quickly and confidently.
Most of the rest of the chapters investigate different water types and how I approach them to maximize my success. At the end of each of these chapters is one or more case studies where my friends and I fish a stretch of a certain water type and I explain the tactics we employed to be successful. The water type chapters include:
Pocketwater
Riffles
Runs
Pools
Glides
Bankside Lies
The last chapter provides photos and recipes for some of my favorite fly patterns.
Published by Stackpole Books.
Copyright 2019 by Devin Olsen.
Hardcover
Total length is 212 pages.
---
All items are shipped USPS. Orders over $75 qualify for free shipping (excluding heavy and bigger items).
Tracking Information is available after the order is shipped (usually within 24 to 48 hours).
Expedited shipping is available for US customers only and is an option at checkout.
International shipping rates are real-time and actual costs. Free shipping does not apply.