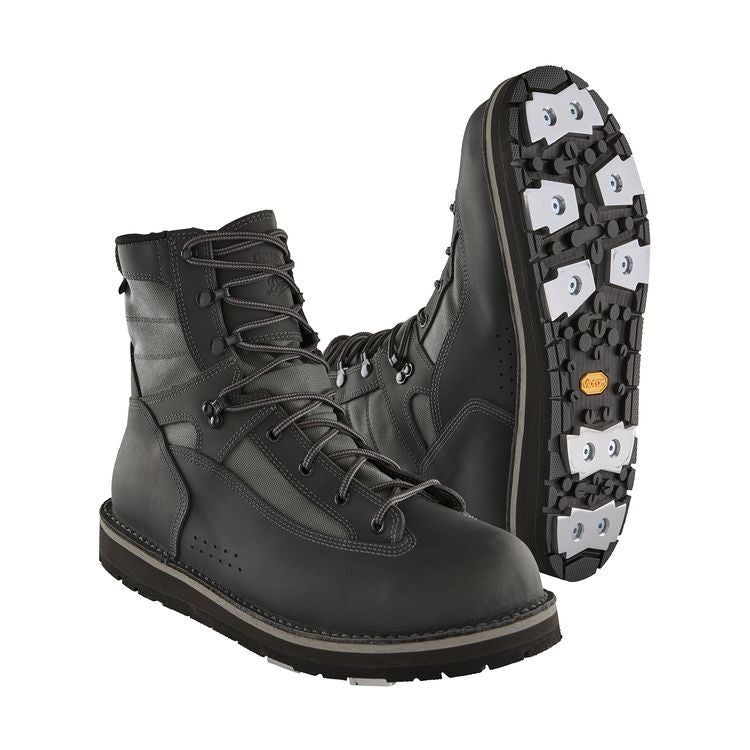 Patagonia Foot Tractor Wading Boots - Aluminum Bar
79320-FGE-8
Before we could build the best wading boots ever made, we had to define the word "best." After much collaboration with our designers, ambassadors and anglers from around the world, not to mention countless hours of in-the-water research, here's what we came up with: The best wading boots need to be ultracomfortable and supportive for long days in heavy water. They should grip subsurface terrain, muddy trails and the occasional cross-stream log. They must drain quickly and avoid holding excess water. And on top of being tough as nails, they need a lifetime measured in decades. Finally, as we all agreed, not looking like Frankenstein boots would also be a plus. Once we knew exactly what we wanted, the world-renowned Danner Boots came into the frame. We combined our fly-fishing experience with Danner's legendary quality and craftsmanship to create a wading boot beyond all others—each one proudly made by hand (with imported parts) in Portland, Oregon. Their flexible, waterproof full-grain leather provides foot-conforming comfort, support and protection, while stitchdown construction creates a wide, stable base that's easily resoled when the need arises. The adjustable lacing system has traditional eyelets across the forefoot and speed lacing through the ankle; the speed lacing provides easy tightening, supports the ankle when wading on uneven surfaces and helps lock the heel in place. For ultimate traction on anything but sheet ice or untextured slate or shale, strategically shaped aluminum bars bite through river slime with pit-bull grip while the surrounding Vibram® Idrogrip sole conforms to rock texture for additional hold. They're the best boots we've ever made, and we believe they're the last ones you'll ever need to buy.
Features
Durable, waterproof full-grain leather treated with a PFC-free saline-solution tanning process for improved resistance to breakdown, even in salt water; the leather can be reconditioned as necessary
Tough, 1,000-denier nylon paneling provides excellent abrasion resistance
Adjustable lacing system has traditional eyelets across the forefoot and speed lacing through the ankle; closed speed hooks provide quick tightening, support the ankle, help lock the heel in place and won't snag on debris or fly line; top single hook for easy on/off. Hardware is nylon-coated for corrosion resistance
Perforated drains on both sides of boot upper clear water quickly; for faster dry times, upper design is free from unnecessary foams and backers
Upper is stitched to 5mm rubber midsole for stability underfoot; a second, lower midsole is made from water-resistant polyether polyurethane that adds additional comfort and support
Stitchdown construction creates a wider platform for more stability, helps protect the boot sidewall and allows the boots to be resoled by Danner
Aluminum bars are hard enough to cut through slime and soft enough to conform to rock surfaces, providing superior traction on almost any surface other than sheet ice, slate or shale; Vibram® Idrogrip sole compound specially developed for maximum grip on wet surfaces
2,461 g (86.8 oz)
---
All items are shipped USPS. Orders over $75 qualify for free shipping (excluding heavy and bigger items).
Tracking Information is available after the order is shipped (usually within 24 to 48 hours).
Expedited shipping is available for US customers only and is an option at checkout.
International shipping rates are real-time and actual costs. Free shipping does not apply.